Welcome to The Bead Fairy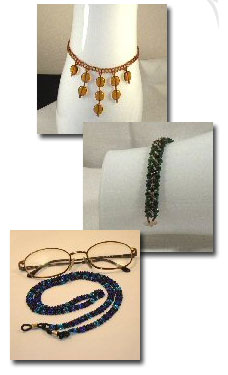 Family-owned-and-operated, The Bead Fairy specializes in offering a large selection of glass, crystal, bone, horn and semiprecious stone beads for use in creating personalized easy and elegant jewelry for all occasions! We have the experience and the knowledge to assist you with creating one-of-a-kind fashion accessories at affordable prices. We offer competitive prices on Swarovski crystals, sterling silver beads, semiprecious stones from amethyst to Australian jasper, Indian and Czech glass.
We have a variety of earring, necklace and bracelet clasps and findings created from nickel, gunmetal, copper, sterling silver, silver plated, gold plated and gold filled of all types. We would love to assist you in the creation of jewelry pieces that will add a dash of pizzazz to any outfit for any occasion. We are located at 9417 South Union Square (680 East) in Sandy, Utah. Come see us soon!
Sandy Store
801-571-7166
9417 South 680 East
Located in Union Square

Hours:
Monday-Saturday 10am - 8pm
Sunday 12pm -5pm
Orem Store (New Location)
801-607-2211
1215 South Main Street
(East of Petsmart)

Hours:
Monday-Friday 11am - 8pm
Saturday 10am - 8pm
Closed Sunday

Lots of Great Gift Items

Fairy Figurines
Inspirational Books
Fairy dolls
Flannel board Teaching Sets
Ready made Jewelry
Charms

Beading Classes

Basic beading classes are normally held one night per week. They are held at the Bead Fairy at 9417 South 680 East in Sandy, Utah every other Tuesday evening and in Orem on alternate Tuesday evenings.   Please contact Robyn at  (801)259-7388 to sign up or sign up at either of the Bead Fairy stores. See the Classes page for more information.


Special Offers
Text Messaging List